Best biosphere reserves in India: India has as many as 18 biosphere reserves, which are in fact specialized environments, where flora and fauna need protection and nurturing. These reserves are analyzed and managed for the conservation of different kinds of life forms that are available here. The flora and fauna found in this area are subjects of natural and scientific interest.
And India's place towards the south of the world's biggest mountains is surrounded by open water from three sides, which provides an ideal habitat for a wide selection of fauna and flora to flourish. Obviously, these reservations certainly deserve a visit. Take a look at this list of 10 best biosphere reserves in India, which we've curated in the list of 18 so that you've sorted out from where to start at least.
10 Best Biosphere Reserves in India
1. Gulf of Mannar
The Gulf of Mannar is located Between India and Sri Lanka Its joint two nations. this gulf of Mannar acquires 32,400 square kilometer area of the field.
You can find here lots of sea animals like Sea turtles, Sharks, Dugongs, Dolphins, Whales. Pearl Oysters, Gorgorian Corals are also frequent in the reserve
If you talking about trees and plant then you easily find Sea Grass, Sea Weed, Sea Cucumber in this field.
2. Sundarban
Sunderban is the most famous place in India. Its located in West Bengal. its Estuaries of River Ganges and River Brahmaputra. The reserve is also a UNESCO World Heritage site, as it is the largest mangrove forest area in the world. area of this Biosphere reserves in India is 139,500 hectares. It's large!!!
Sunderban is famous for the Royal Bengal Tiger. Also, you find Spotted deer, Rhesus Macaque, Salt Water Crocodile, and Giant Adjutant Storks are some other attractions.
Sunderban is the World's largest mangrove forest. It hosts several endemic species of plants such as Garjan, Gewa, Goran, Keora and Sundari trees. The name Sundarbans refers to the abundance of Sundari trees in the area.
3. Nilgiri Biosphere Reserve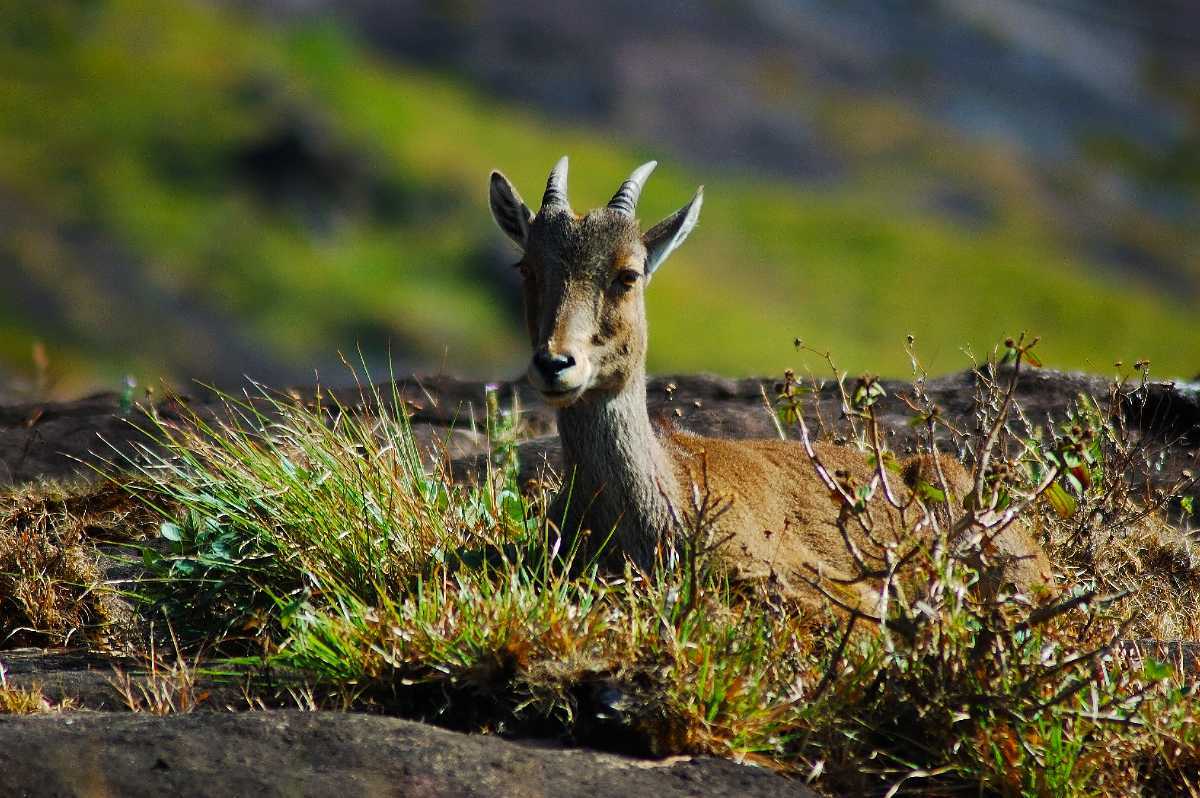 Its located in the Western Ghats and Nilgiri Hills in South India. You can easily visit there. It acquires a 5,520 square kilometer area of Nilgiri hills.
In this Nilgiri ghat, you can easily find 100-150 species of mammals, 300-350 species of birds, 100-150 species of reptiles including Indian Tiger, elephant, Lion-tailed macaque and Nilgiri tahr. Nilgiri has the largest population of Lion-tailed macaque and Nilgiri tahr, which are two endangered species.
Also, you can find lots of variety of plants and trees here. In an average 3k species of flowering plants grow in this area and out of them, 130 are endemic to this region. Sholas or the local tropical forests host the rarest plant species.
4. Nokrek National Park
Its located in the north-west region of India. Its called West Garo Hills, Meghalaya. It's a very small biodiversity but very rare.
It acquires a 47.5 square kilometer area of Garo hills.
You can find here A large population of Red Panda in the reserve. Other mammals include Hoolocks, Stump-tailed Macaque, Flying Squirrel, Leopard, and Pig-tailed MacaqueHere you can find local flora like Grand rasamala, White meranti, Lali, Chempaka, Wild lemon are some of the endemic plants. The reserve is mainly famous for its wide vegetation of citrus plants such as lemons, oranges, and lime.
5. Nanda Devi Biosphere
Nanda Devi's Location is Northeast of Uttarakhand. This Bio-reserve is also designated as a UNESCO World Heritage Site. The area of this bio reserve is 630 square kilometers.
Here you can find Himalayan musk deer, Mainland serow and Himalayan tahr. The reserve is also known to host Snow Leopards, Himalayan Black Bear and Brown Bear, Langurs and Rhesus Macaque. you see them in the winter season.
Very few trees are found here like Fir, birch, rhododendron, and juniper are abundant here. Vegetation is scarce due to the dry, frosty environment.
6. Great Nicobar Island
Its located in the Nicobar Islands. means Andaman Nicobar. Great Nicobar Island acquire a 1,045 square kilometer area.
Lots of sea animals found here like Crab Eating Macaque, Nicobar Megapode, Giant Robber Crab, Nicobar Serpent Eagle, Giant Robber Crab, Palm Civet, and Water Monitor Lizards are common in the reserve.
In this biosphere reserves in India have very few trees available here like Screw Pine, Nipa Palm, Ceylon Iron Wood can be found in abundance.
7. Pachmarhi Biosphere Reserve
Pachmarhi Biosphere Reserve Established in 1999 for the preservation and protection of wildlife, the Pachmarhi Biosphere Reserve in Madhya Pradesh is a prominent part of Satpura Range. It acquires a 4,926 square kilometer area of Satpura.
Lots of Tigers, Leopard, Wild Boar, Indian Giant Squirrel, Indian Wolf, Chinkara, Nilgai, Chital Deer, Muntjac Deers, Sambar Deer, Bison, and Rhesus Macaques are found here.
in this Biosphere Reserve, Two commercial trees Sal and Teak can be found. Other endemic flora includes Wild Mango, Jamun, Silver Fern, and Arjun can find here. It's all local flora. 
8. Cold Desert (Pin Valley National Park)
Its located within Himachal Pradesh and in Pakistan (Skardu). But the terrain matches that of a high altitude Himalayan desert, which is host to some very unique biodiversity.
The massive reserve is 7,770 square kilometers vast and includes the Pin Valley National Park, Chandratal, Sarchu, and Kibber Wildlife Sanctuary.
Mostly known for the preservation of the extremely rare Snow Leopard, the area also serves an important role in the history of Buddhism in India.
9. Amarkantak Biosphere Reserve
Its located in Chhattisgarh and Madhya Pradesh. Around 383,550 of hectares area acquires.
You can find here lots of species of animals like Tigers, Panthers, Bears, Chital Deer, Sambar Deer, Barking Deer, Foxes, Wild Boar, Jackals, and Bisons. The area is also famous for hosting different species of frogs including Cricket Frog, Burrowing Frog, Tree Frog, Ornate Narrow Mouthed Frog, Toad and Bullfrog
In Amarkantak Biosphere Reserve, You found Pine, Juniper, Cedar, and Cypress. Some of the species of Pine and Cedar are endemic to the reserve.
10. Similipal Biosphere Reserve
You can find it in the middle of India. Its located in Northeast Odisha and acquire a 2,750 square kilometers area.
Here on an average of 50 species of mammals, 250 types of birds and 30 species of reptiles have been found. Tiger, Leopard, Sambar, Asian Elephant, Barking Deer, Gaur, Chausingha, Jungle Fowl can found here. this is very large biosphere for animals.
This is famous for orchids. As many as 96 species of orchids are found here. Other prominent vegetation includes in this large grasslands.
you can also read- Applying sunscreen in winter is more important, know the reason