Kartik Aryan and Sara Ali Khan are busy preparing for the upcoming movie 'Love Aaj Kal 2'. However, apart from the film, the duo also makes a lot of work on social media.
Seeing photos of Kartik Aryan and Sara Ali Khan, or watching videos, both of them start to be viral on social media. Recently, the director of 'Love Aaj Kal 2' shared a photo with his Instagram account, which in a few moments was highlighted in the headlines. In this photo of Imtiaz Ali, Sara Ali Khan and Kartik Aryan are seen together. Both of these photos are also very dear to look at.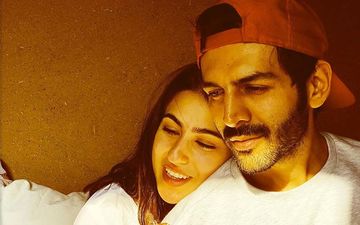 Sara Ali Khan is seen in White Kurti in this photo, which is on social media. At the same time, Kartik Aryan is wearing a white t-shirt and a red cap on the head in the photo. In the photo, Sarah Ali Khan has placed the head on the shoulder of Kartik Aryan. The look of both of them in the photo looks very special. Imtiaz Ali shared this photo with Instagram, "Oxygen which can fill the breath in the film."
Finance minister Nirmala Sitharaman presents Union Budget 2019
Let me tell you that They also went to Shimla for a short time before shooting for 'Sara Ali Khan' and 'Kartik Aryan' movie 'Love Aaj Kal 2'. During this, both of them were seen walking on Shimla roads. However, the shooting of the movie has now been completed. Sarah Ali Khan and Kartik Aryan's movie "Love Aaj Kal 2" is a sequel to Deepika Padukone and Saif Ali Khan's movie "Love Aaj Kal". This movie is directed by Imtiaz Ali.