Exit Polls Result 2019: According to NDTV's 'Poll of Polls', NDA 302, Congress 122+ and others are getting 118+ seats.
The Lok Sabha Elections (2019) has ended. In the last phase of 59 seats, the 542 seats were held in the EVM. The majority will need 272 seats. Results come on May 23 But before that poll results are estimated through Poll of Polls.
According to NDTV's 'Poll of Polls', NDA 302, Congress 122+ and others are getting 118+ seats. Let me tell that this time PM Modi has contested elections from Varanasi only, Congress President Rahul Gandhi is in the elections from Wayanad of Kerala and Amethi from UP.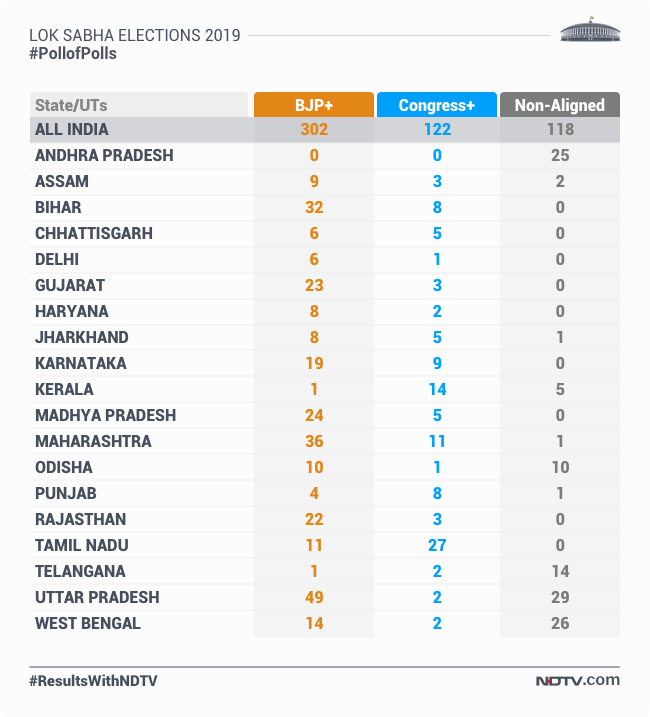 Both the Congress and the BJP are claiming victory. BJP president Amit Shah has claimed to win more than 300 seats and said that this time NDA government will also be formed, but Congress President Rahul Gandhi is also very confident.
Let me tell you that BJP has contested 420 seats this time, while the rest of the seats has shared with allies. This time Lok Sabha election concluded in 7 phases between April 11 and May 19.
In the first phase, 69.43% voting took place on April 11, while on the second phase on April 18 and about 23 percent polling on April 23, around 66 percent of the voting was held. On April 29, the fourth phase voting was 64 percent, while in the sixth phase of May 12, 57.33 voters used their franchise.
The new feature on Facebook will show the best friends to the top.
It is known that in the first phase, on April 11, voting was held in 91 seats in 20 states; in the second phase, on April 18, voting was held on 97 seats in 13 states. In the third phase, on April 23, 115 states of 14 states, the fourth phase will be held on April 29, 71 seats in nine states, fifth on May 6, 51 seats in seven states, sixth phase on May 12, 59 seats in 7 states and seventh and last Voting was held on May 19 at 59 seats.
Source- ndtv.com